The Greater Kane County Illinois Chapter of Wild Ones was founded in 2009 as a chapter of Wild Ones. We  are committed to promoting the use of native plants in landscaping, gardening, naturescaping and land restoration. In April, 2021, we changed our name to from Northern Kane County Wild Ones to Greater Kane County Wild Ones.  Wild Ones is a not-for-profit environmental education and advocacy organization.
The mission of Wild Ones is to promote native plants, natural landscapes, and environmentally sound landscaping practices to preserve biodiversity through the preservation, restoration and establishment of native plant communities. Wild Ones continues to lead the natural landscaping movement as we explore, teach, and change the practice of gardening in our communities and around the country to using native plants.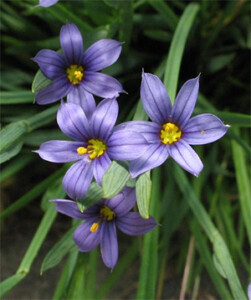 Announcing an exciting opportunity this summer!
Every Monday night, June, July and August, we will have a Zoom roundtable as a part of our Start in Your Yard initiative.
Please tune in at 7:30 p.m. on Zoom if you're in the mood to share, ask questions, learn, listen — about gardening with native plants.
If you're a beginner with natives, we designed these Roundtables for you. You can listen to people who enjoy talking about what's possible, who know a lot, and are always eager to learn more. They'll answer questions, speak from direct experience, and listen to your concerns.
If you're experienced with natives, please join us to talk about what's on your mind. We expect to leave each session with more energy, enthusiasm, and appreciation than we came with. That tends to happens when we get together!
There is no agenda, no pre-registration, no preparation – just an expectation that we enjoy ourselves around the topic of native plants and all that it touches.
At 7:30 every Monday night:  go to startinyouryard.com and click Monday-night Roundtable to join in.
Wild Ones of Greater Kane County is happy to announce our second garden walk for the season at the home of Angelika Brinkman-Busi 
 in Wayne, IL, on August 28. Their just under 2-acre yard borders Brewster Creek and has a small wetland area as well as sunny drier areas.  Click
here
to sign up for a tour time on Eventbrite.
The Busi family moved to IL in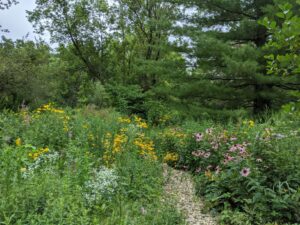 2007, from Southern California and were not familiar with the native plants in this region.  After taking a class with one of our chapter's founders, Pat Hill, Angelika worked with Pat to select and design their first native plantings near the entrance of their home in 2008.
They began to get rid of lawn and added a French drain to draw excess water through some of the areas.  As with many native gardeners, it seemed as if at times, the weeds were winning, but they kept at it and disc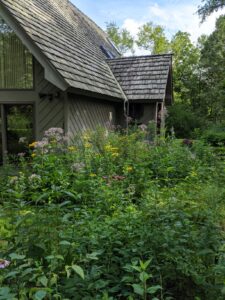 overed some native plants were very helpful in shading out weedy plants. The composition of plants in her yard has changed over time due in part to some areas becoming wetter, but also in an attempt to control the spread of some of the aggressive native plants.  While the majority of plants is native, she also left a few ornamental plants that were not aggressive in place.
Angelika loves how the yard's aspect changes throughout the year and that it allows her to observe wildlife close up as well as provide beautiful blooms throughout the seasons.
Unfortunately, one of the unwanted native plants is poison ivy, which has spread despite their best efforts, so please dress to prevent being affected by it.
Wild Ones of Greater Kane County is offering a late summer plant sale of plants and grasses from Taylor Creek Restoration Nursery and trees and shrubs from Majestic Oaks.  Order deadline is August 18.  Pick up is September 10.
To get started, go to www.startinyouryard.com.  Go to the plant sale information and click to find two lists, one for forbs and grasses, and one for trees and shrubs.  Click to order form to order. We are using software called Airtable to place orders.  Click on Answers to your questions to get all the information you need to know to order .